Welcome to the 2010 Flushies!  The Flushies are Game-Flush.com's annual awards for the best and worst in gaming for the year.  So click the Read More link to check out our categories (some of them very original) and our picks for what stood out the most, good and bad, in 2010.
Character Most Likely to Work for Game-Flush.com:
DeathSpank (DeathSpank) vs Scott Pilgrim (Scott Pilgrim vs the World)
What a match up!  Scott Pilgrim, who fought the seven evil ex-boyfriends of Romona Flowers just to win her heart, and DeathSpank, who fought the most wretched villains of the world (including Santa Claus in Thongs of Virtue) to rescue the downtrodden from their pitiable state.  DeathSpank is a lovable, albeit naive hero whose quirky dialogue and antics make him a joy to be around (if his stupidity doesn't give you a headache first).  And Scott Pilgrim?  He lives his life as though it's a video game (something he and The Farr have in common).  Though in the end, DeathSpank's ingenious use of outhouses as checkpoints and re-spawning points gives him the edge we're looking for in recruits here at Game-Flush.  Not to mention that epic chin!
The Winner: DeathSpank
Most Referenced Celebrity of 2010:
Hulk Hogan vs Tommy Wiseau
Hulk Hogan was referenced in three articles (Hard to Play Very Hard, Wall Street F'n Kid, and I'm Kind of a Big Deal) while Tommy Wiseau's name also showed up in three articles (the Castlevania: Lords of Shadow review, Congratulations Koz!, and the review for the game based on Wiseau's very own claim to infamy, The Room Tribute).  Thus, despite The Corporate Ninja's attempts to make Mr. Wiseau the most referenced celebrity this year, he only managed to tie him up in the ropes with the master of ketchup and mustard fury.  Looks like it'll be a battle for supremacy in 2011.  'Well, not if Gigantor has anything to do with it,' says the Ninja with a wry smile.
The Winner: Neither?!
Unsung Hero 2010:
The Early Swirly vs The Game-Flush.com Fans
Sure, we could have done something cheesy like award our fans for helping make this site what it is (and we do and you unquestionably do), but there aren't enough of you yet!  So invite your friends and maybe you can all take the award away next year.  As for picking The Early Swirly for this year, we could name a million reasons, but for a start-up site like ours, we can't thank The Early Swirly enough for getting us continued hits as people charge Game-Flush just to find out what we've picked as our top choices in releases for the week.  Thanks also to Teach for coming up with the idea.  It's a fantastic addition to our weekly line-up.  Now if only The Corporate Ninja will finalize an idea for an Early Swirly logo.  It certainly deserves it now.
The Winner: The Early Swirly
Employee of the Year:
Brian (Teach) vs no one
Not just for his Early Swirly idea and contributions, but Teach has been, by far, the hardest worker in Game-Flush's first year.  Putting out reviews on days when no content was scheduled, keeping The Corporate Ninja busy with new ideas for artwork for the site, creating new schedules for staff members' posting dates, even keeping on top of The Farr's toilet cleaning duties while Koz was away on his honeymoon, Teach has been an indispensable part of the Game-Flush staff.  Join us in giving him thanks for all his hard work.
The Winner: Teach, obviously!
Biggest Disappointment of 2010:
LittleBigPlanet 2 Delayed vs. Motion Gaming Boom
Both the delay of LBP2 and the push of motion gaming have made many suffer.  The demo and beta snippets we've gotten from LBP2 are nothing short of breathe taking.  LittleBig lovers are salivating like dogs!   LBP2′s delay is an act of blasphemy.  On the other hand is motion gaming (Kinect, Playstation Move and, of course, the Wii).  Teach has gone off about the decline of the Wii. Likewise, Kinect and Playstation Move have done nothing but give us recreations of games already released on the Wii or games that aren't worth the plastic they are made of. Save the planet and save us some money.
The Winner: LittleBigPlanet 2 Delayed
Best Announcement of 2010 for 2011:
Uncharted 3: Drake's Deception vs. Street Fighter X Tekken / Tekken X Street Fighter
Uncharted 2: Amongst Thieves left PS3 owners chanting for more, and they got their wish. Drake's Deception is going to fly off the shelves, and if the game is half as good as the first two, it will be worth every penny.  The announcement of Street Fighter X Tekken could quite possibly be the biggest announcement in the fighting genre's history.  Street Fighter X Tekken brings ultimate dream matches of the fighting genre to the finger tips of their fans (poor Mortal Kombat).
The Winner: Street Fighter X Tekken / Tekken X Street Fighter
Worst Character of 2010:
Wes Dickens (Red Dead Redemption) vs T. Hawk (Super Street Fighter IV)
Every great game has to have one really worthless, obnoxious character. For Red Dead, it was good ol' Dickens. Every time he plagued the TV screen, it was filled with complaining and John Martson wanting to kill him (we know how he feels).  T. Hawk wasn't cool back in the 90s. We realize that Capcom wanted to bring back all the characters from Street Fighter II: The New Challengers, but they could have just killed him off and did everyone a favor.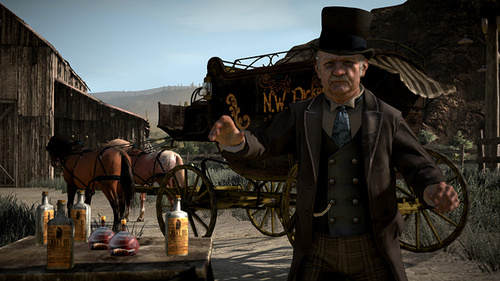 The Winner: Wes Dickens
Manliest Man 2010:
Kratos (God of War III) vs John Marston (Red Dead Redemption) vs DeathSpank (DeathSpank)
What a psychologically interesting group of men we have this year.  Without a doubt, DeathSpank would think the award was all but in the bag for him.  I mean, who else undowntroddens the downtrodden like he?  John Marston, on the other hand, would rather you kept the award and give it to one more deserving.  He's just doing what a man should do, in his eyes.  And Kratos?  Well, bless his heart, he'd probably scoff at our poor attempts to idolize him, with many insults (verbally or physically) to our manhood.  Then we could only hope to be used as a human shield against the next flow of danger which is sure to follow him.
The Winner: John Marston
Hottest Babe 2010:
Juri Han (Super Street Fighter IV) vs Fang (Final Fantasy XIII) vs Knives (Scott Pilgrim vs the World)
Teach practically worships the ground Juri Han walks on (and would marry her, polygon-boobs and all, if he didn't already have a ring on his finger), The Farr dreams of long walks with Knives and plans to somehow inject himself into the world of Scott Pilgrim to be with her, and some how Fang made this list though The Corporate Ninja finds her accent to be her only attractive feature.  (He secretly curses his luck that Game-Flush began this year, and so makes Sheva Alomar – Resident Evil 5, 2009 – ineligible for this category.)  But in the end only one dream-girl can make the cut.
The Winner: Juri Han
Worst Publisher of 2010:
Warner Bros. Interactive Entertainment vs  LucasArts
Warner Bros. Interactive Entertainment gave us perhaps one of the worst games of all time, Aragorn's Quest.  LucasArts managed to screw up the cannon for their bread-and-butter series created by their namesake owner.  While neither company had any sort of record winning bad year, there has to be a winner…or loser anyway.
The Winner: LucasArts
Best Publisher of 2010:
Konami vs Rockstar Games vs Capcom vs Square Enix
This year Konami really stepped up their game with downloadable content releases (including the unrivaled release of the X-Men Arcade game). Not to mention, The Corporate Ninja's Castlevania-cannon issues aside, Castlevania: Lords of Shadow and Playstation Portable's Metal Gear Solid: Peacewalker.  Capcom was super-charged with nostalgia this year releasing Mega Man 10 and Super Street Fighter IV.  Rockstar Games had Red Dead Redemption, giving the Game-Flush staff and their friends hours upon hours of multiplayer joy his past summer.  Square Enix gave us both a new Final Fantasy and a new Kingdom Hearts to love. But, based on output this year, there can be only one.
The Winner: Konami
Worst Game of the Year:
Aragorn's Quest vs Star Wars: The Force Unleashed II

Both of these precious little gems are swarmed with lack of creativity, lack of entertainment and lack of effort.  Neither game came off as interesting or fun.  Aragorn's Quest's game play is a disaster. The story of The Force Unleashed II was just a mess. To make it worse, the DLC just added fuel to the fire.
The Winner: Aragorn's Quest
Game of the Year:
Super Street Fighter IV vs Heavy Rain vs DeathSpank vs Red Dead Redemption vs God of War III
This was a difficult decision for all of us here at Game-Flush.com and though only two games listed have yet been reviewed on the site, many if not all of the staff have put a number of hours into playing the greatness of all these titles.  Super Street Fighter IV took a good thing and made it a great thing with all of its improvements from the vanilla version.  Heavy Rain's story and game play were nothing short of amazing.  DeathSpank reminded us how basic can breed greatness.  Red Dead Redemption raised the bar on multiplayer experience and had one of the most satisfying game conclusions we've ever seen. God of War III was nothing short of pure satisfaction across the board, from the story to the stunning graphics. Unfortunately, we can only award one game with this trophy.
The Winner: God of War III



The year of 2010 was certainly a great one, and 2011 is looking just as amazing (just look at our poll for a small portion of the big games coming this year).